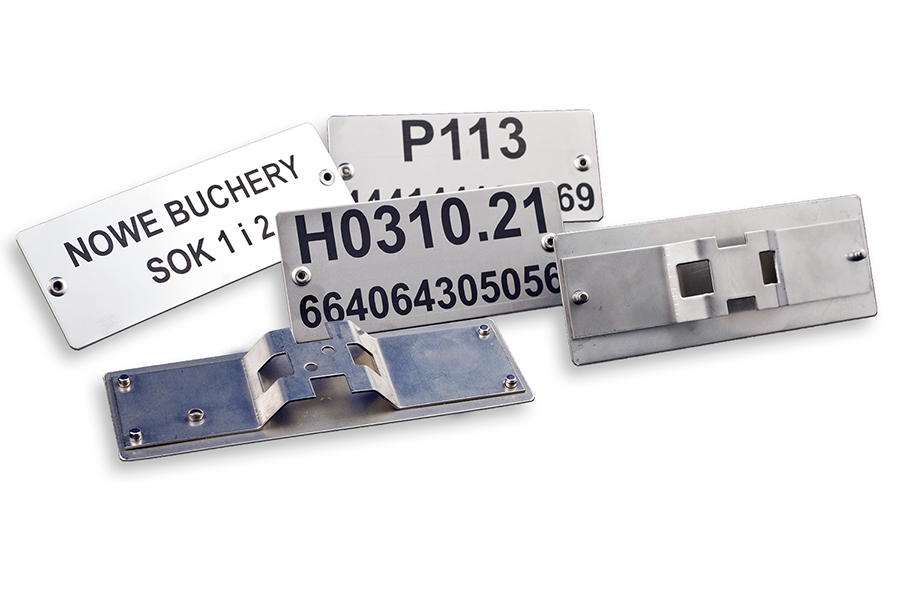 Engraved data plates
We engrave data plates using the laser technique or mechanically (engraving and milling machine). We engrave on PVC laminates, aluminium, stainless stee, brass and other material according to demand.
The size of the data plate, its design (eg. rounded corners), the layout of the text, the holes needed for mounting can be tailored to customer specifications.
Our experience and the newest technologies we have at our disposal guarantee a short period of realisation, even of a large number of plates, and the high quality of these plates.
What are engraved data plates used for?
nameplates
id plates
valve tags
pipe marking tags
assets tags
serialized tags
inventory tags
equipment tags
Nr

Product

Material type

Thickness (mm)

Production technology

Temperature resistance

1

plastic

laminates

PVC (various colours)

1,6 (standard)

laser engraving

-30°C / +85°C

2

PVC (various colours)

3,2

laser engraving

-30°C / +85°C

3

PVC (various colours)

0,6 – 0,8

laser engraving

-30°C / +85°C

4

self-adhesive PVC (various colours)

0,15

laser engraving

-30°C / +85°C

5

aluminium

anodized (various colurs)

0,5 – 2,0

laser engraving

-40°C / +450°C

6

anodized (natural)

0,5 – 3,0

mechanical engraving+painting

-30°C / +150°C

7

chromated and ceramic coated ALUCER

1,2 (s)

UV printing

-30°C / +150°C

8

stainless

steel

type 304 (natural)

0,8 (s)

laser engraving

-40°C / +450°C

9

type 304 (natural)

0,8

mechanical engraving+painting

-30°C / +150°C

10

type 316L (natural)

0,8 – 3,0

laser engraving

-40°C / +450°C

11

type 316L (natural)

0,8 – 3,0

mechanical engraving+painting

-30°C / +150°C

12

type 316L (powder painted in white)

0,8 – 3,0

UV printing

-30°C / +150°C

13

type 316L (lacquered)

0,8 – 3,0

UV printing

-30°C / +150°C

14

brass

natural

1,3

mechanical engraving

-40°C / +450°C

15

brass

natural

1,3

mechanical engraving+painting

-30°C / +150°C

16

brass

natural

1,3

UV printing

-30°C / +150°C