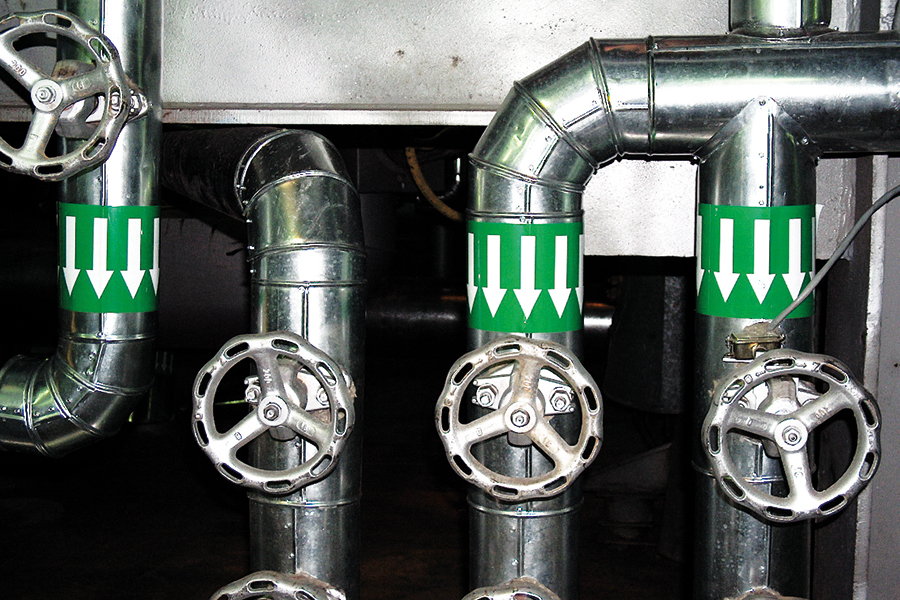 Pipe marking. Pipe labeling
Pipe marking: pipeline marking tapes and self-adhesive labels offer the simplest method of applying safety labelling onto pipelines.
Clearly labelled pipelines in industrial facilities help ensure a safe and efficient workplace. When pipes are clearly marked, accidents involving worker safety and property damage are much less likely.
If employees, emergency services, or even visitors to an industrial plant are unable to quickly determine the contents of a particular pipeline, it can be the cause of incredibly hazardous situations. Piping can be misidentified, which may lead to someone misdiagnosing the risks posed by a hazardous substance. But what usually happens? In the absence of legible signage, employees take much longer to find out what is flowing through a given pipeline during repairs and inspections.
Legible pipe labeling is crucial to occupational safety and the correct operation of installations. Both Polish and and European standards require that pipelines are marked with a colour which identifies the substance that flows inside the pipes and also a direction arrow which specifies the direction of the medium's flow. It is important for the colour and the directional arrow to be visible from all sides of the pipeline. For additional identification, it is advisable that the pipework is labelled with the description of the medium and its parameters. Labelling the pipeline with a number or an alphanumeric code greatly facilitates its identification by the personnel.
The pipe marking should be mounted frequently enough for it to be spotted immediately, particularly in areas which are ambiguous, e.g. on branching, upstream and downstream of a pump, and in places where the marking can make the operation of an installation more efficient.