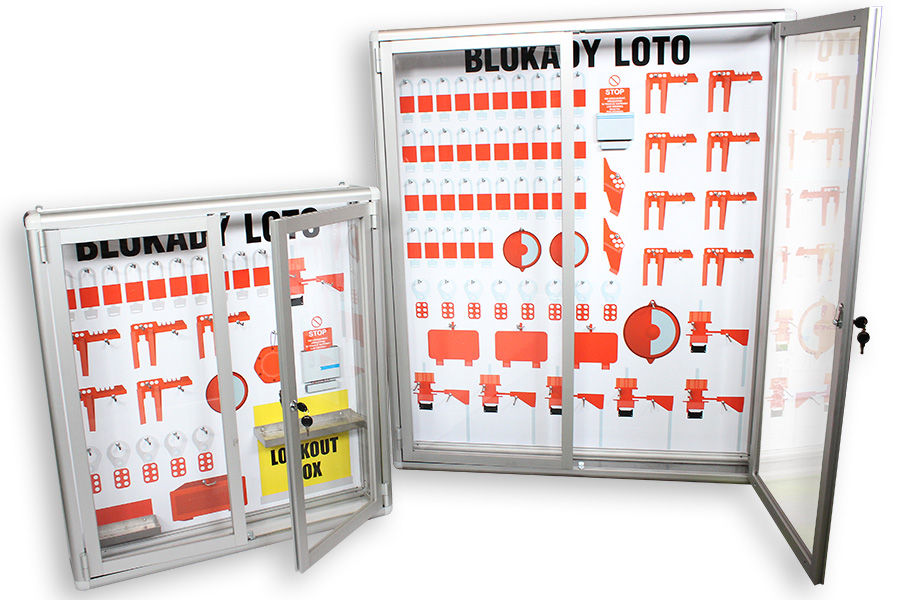 LOTO cabinets
Lockout / Tagout stations with shadows. Stations ensure LOTO locks storage, which is both safe and neat. Thanks to so called "shadows" every lock will be assigned its own space, which facilitates identification of locks being used and makes storage neat and aesthetic. Storing locks inside a cabinet helps to maintain them in clean condition (dusty or oil-contaminated environments) and prevents their unauthorized use (locking the cabinet).
LOTO stations standard sizes:
250x400x150(depth) mm
800x600x150(depth) mm
700x1000x150(depth) mm
On request, custom made in non-standard sizes. Minimal depth: 100 mm.
Lockout tagout stations advantages:
Durable, yet lightweight polycarbonate windows
The doors can be locked with a key or bolt
Ability to freely organise the shadows of lockout devices, safety locks, tags (hangers) and other tools
Wide range of accessories
Practically unlimited choice of accessories and board dimensions
Washable, easy to clean surface
Simple installation – we will install the exact mounting elements you require
Any background colour (yellow and white as standard) and shadow colour
Prevents excessive accumulation of dust.